Seeking My Next Fabulously Compatible Roommate to Share Upstairs 2B1B Apartment in Topanga!
Quote from a former roommate and dear friend:
"She's quirky in all the right ways!"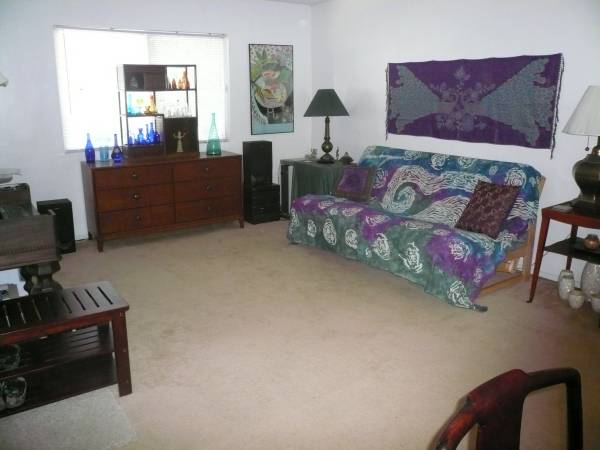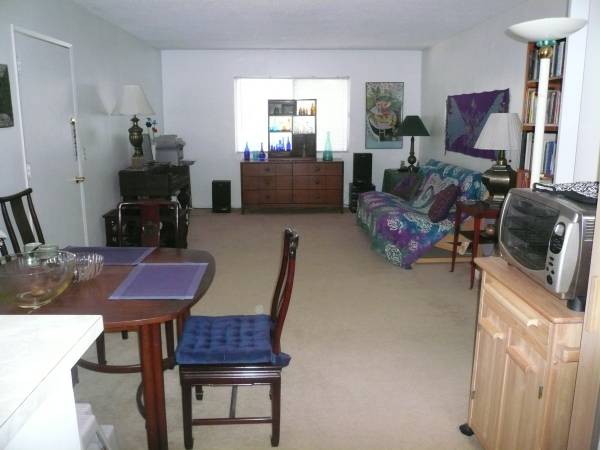 There is now a painting left of the livingroom window, by my friend Emily.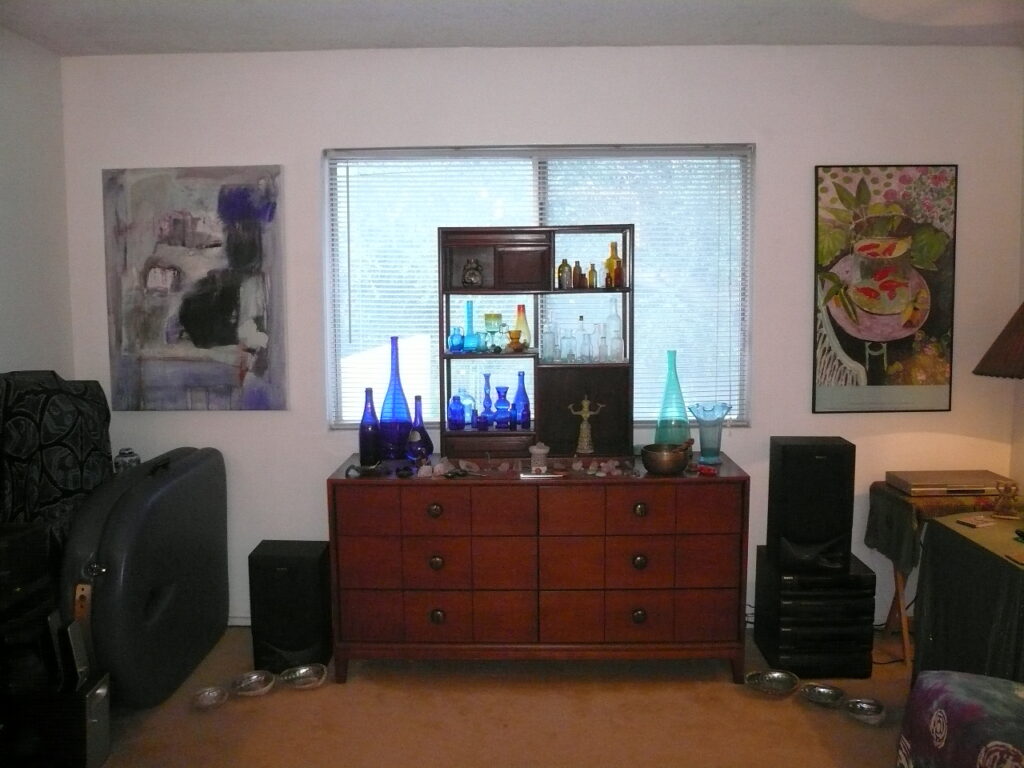 Hiking / Beach in Minutes!!!
Old Topanga Canyon Neighborhood
Private Bedroom for rent in 2 Bedroom 1 Bathroom 2nd Floor Apartment in Old Topanga Canyon, 90290.
Available May 1st, 2023.
$1150/month + Split Utilities, $1200 Deposit.
Utilities run from $40 to $80 for electricity (higher in winter for heating),
$40 for Spectrum high-speed internet (via ethernet cables to every room ~ faster/more reliable than WiFi),
$4.50 for super-filtered fluoride-free drinking water.
No gas bill, this apartment is all electric.
No tobacco smokers / drinking / drugs, no pets, one adult only.
LGBTQ friendly, 420 friendly, prefer no alcohol.
I am chemically sensitive and electro-sensitive, and prefer a quiet, harmonious, responsible roommate who enjoys living in a toxin-free environment, and prefers all organic, all natural bodycare products and non-toxic household cleaning products.  Because of my chemical sensitivities, I prefer male roommates – men generally use fewer chemical bodycare products – and female is fine if you're an "all Dr. Bronner's all the time" kind of girl.
I've had several gay male roommates, and it's a great dynamic for minimizing drama and maximizing harmony in our home.
I prefer someone who works outside the home, or can agree to hours I can see clients here, because I work from home.  (Obviously, this is flexible during coronavirus lockdown – I've had no clients here lately, just friends – prefer someone who will be going back to work when the lockdowns are lifted.)  My schedule is flexible, so I will adjust to your morning and evening routines.  
Must have a job or be provably self-employed, complete application, provide a printout of your full credit report (see below for how to get one for free), and provide copies of your driver's license and SS card.  To make an appointment to see the place and meet me (your future roommate), text or call the number below.
VIBE:
Healthy lifestyle, high on music/art/life and yoga/exercise/meditation instead of drugs/alcohol.  Responsible, reliable, honest, clean, good communication and relationship skills, respectful of each other's needs around work, play, and sleep schedules (shower/morning routines, music volume, etc.).
LOCATION:
5 minutes to closest hiking trails, 10 minutes to Topanga State Beach and PCH, 12 minutes to Calabasas, Woodland Hills, Ventura Blvd, and 101 Freeway, 15 minutes to Topanga mall or Target or Costco, 20 minutes to Santa Monica, 30 minutes to Venice Beach, and the commute is worth it so you can be grounded in nature in this beautiful canyon. Near good surfing, hiking, mountain-biking, horse-riding.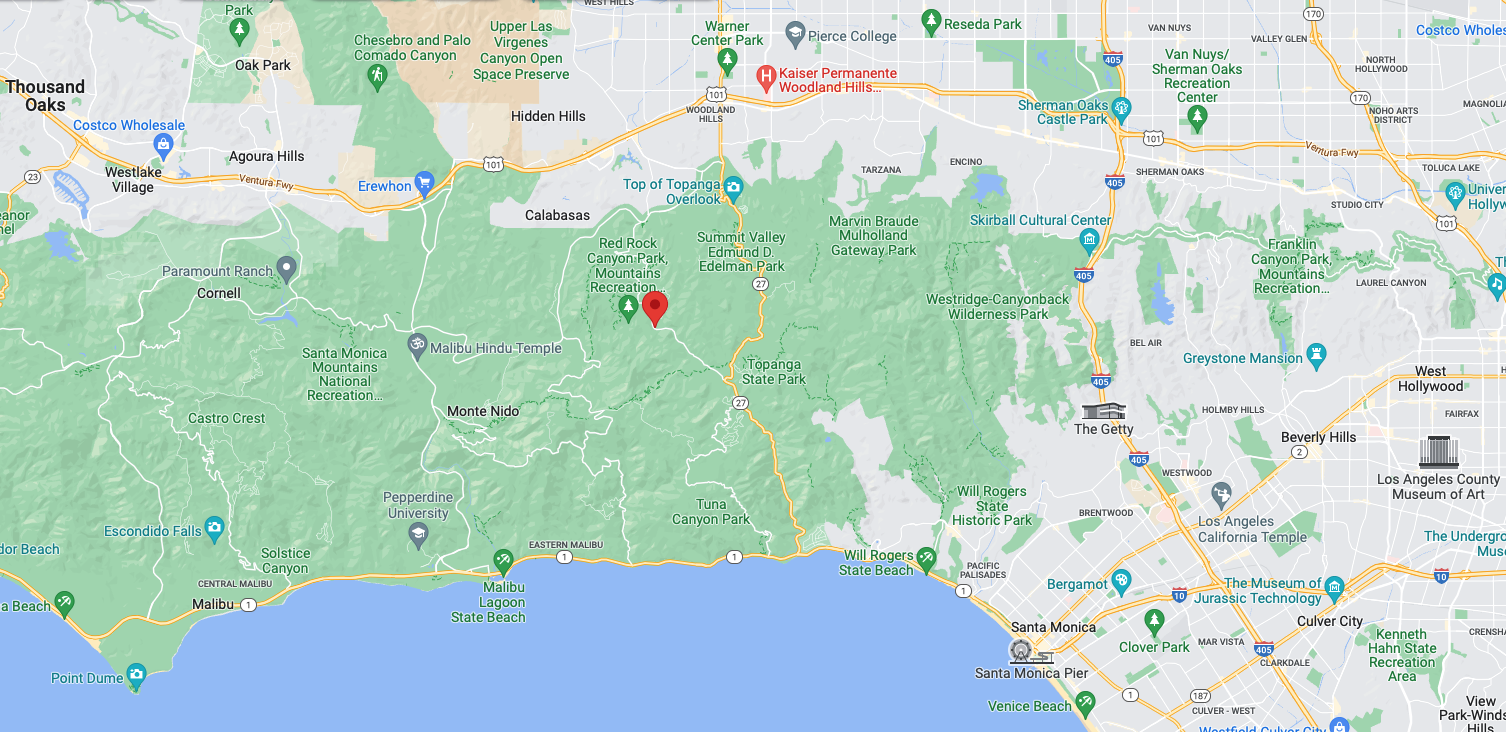 YOUR ROOM:
Unfurnished Private Bedroom in an upstairs 2 Bedroom 1 Bathroom apartment in a 1960s apartment building. The building is old and worn, but has large rooms, and everything works. Your room is 13 x 10, gets morning sun, and has a view of trees and Topanga Creek, a full-size closet, and an extra linen/storage closet. 146 square feet is counting closet space. 
The room will be empty except for a small organizer cabinet and shelves in the closet, an over-door rack of clothes hooks, a curtain rod with burgundy curtain, a space heater, a fan, a full-length mirror you can place wherever you want (or we can move it out of your room to the carport), and an ethernet cable to an internet router with four slots for plugging in to the internet.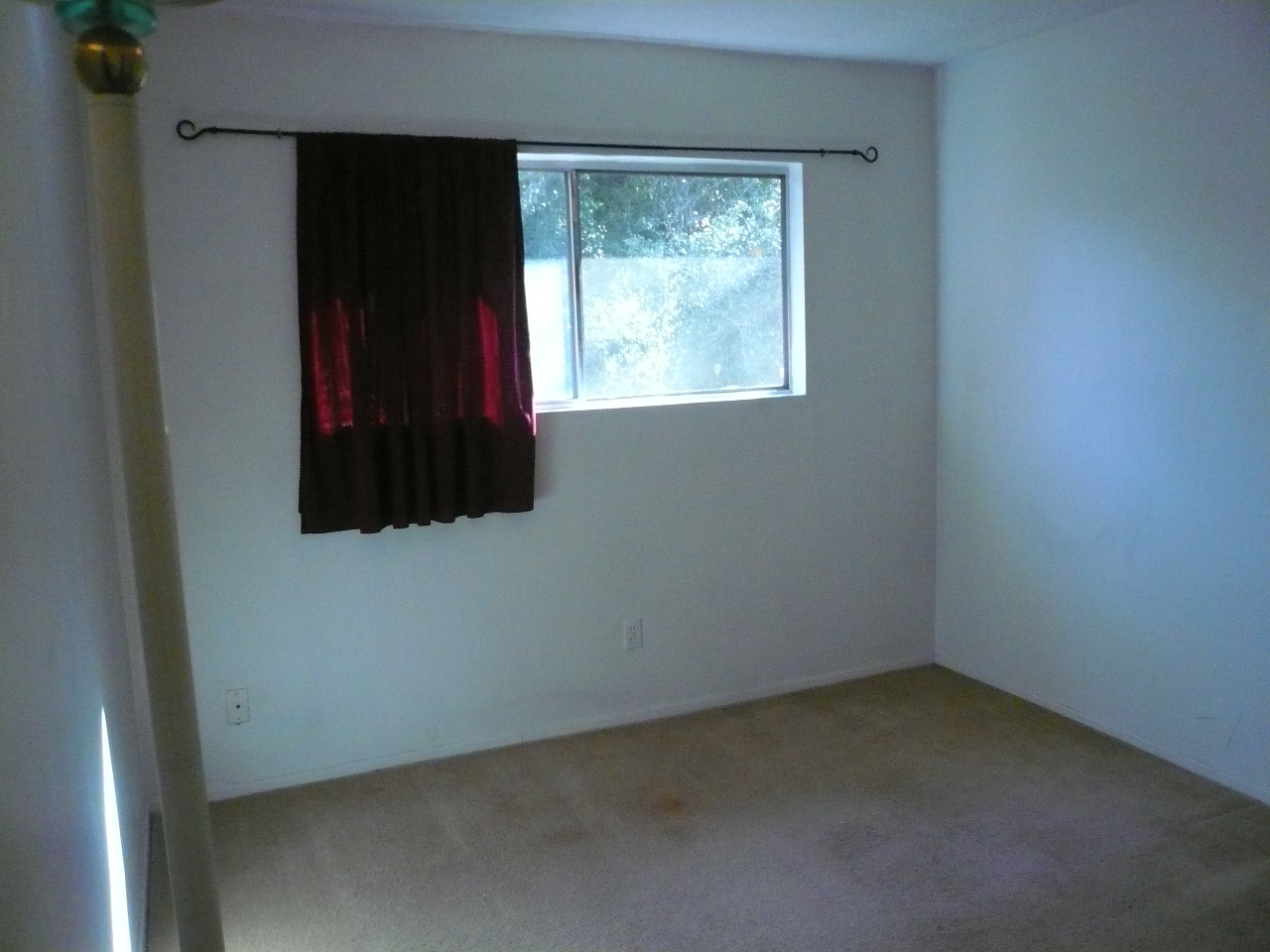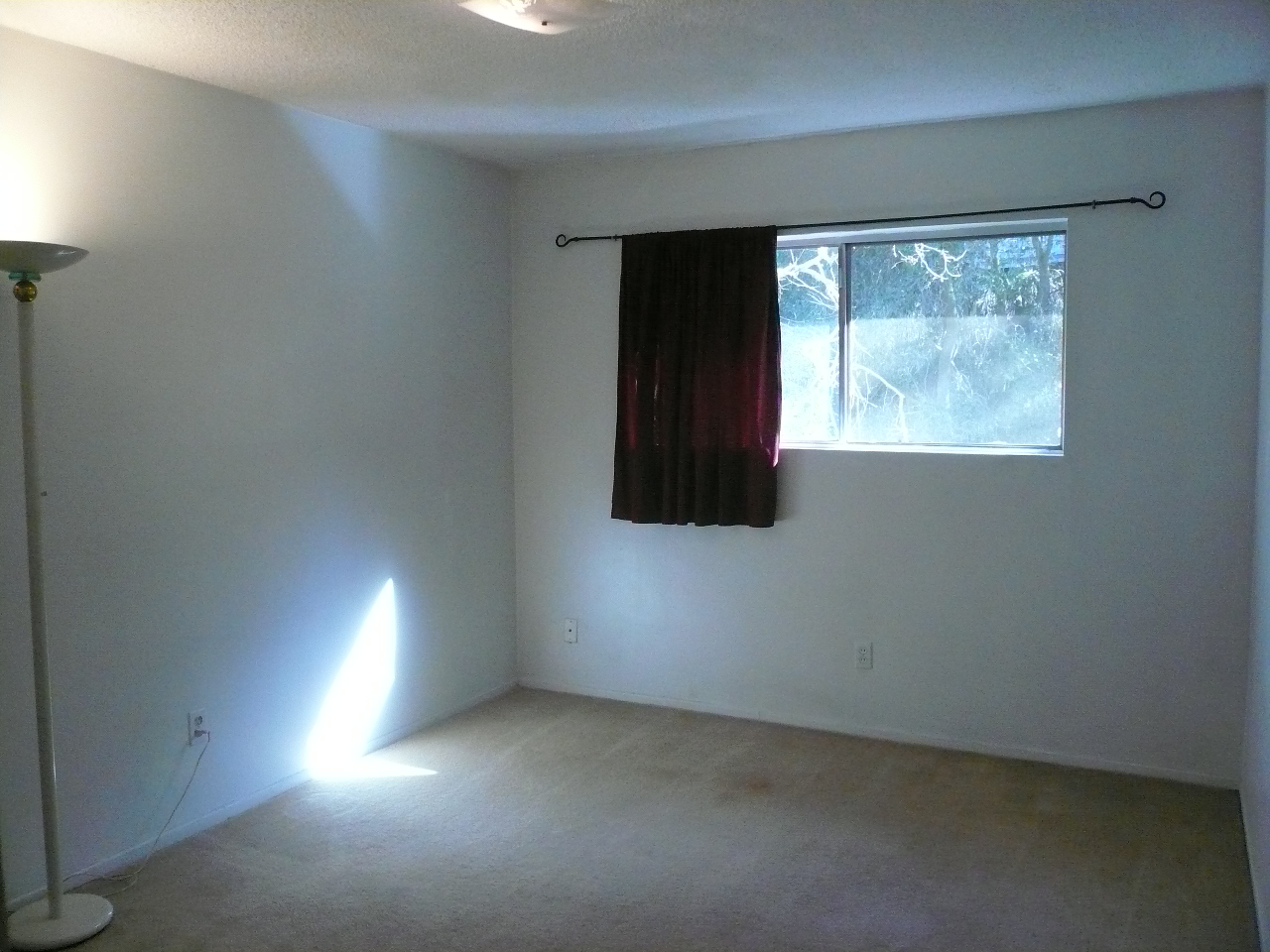 Note:  The walls are now completely white rather than the cream color shown below.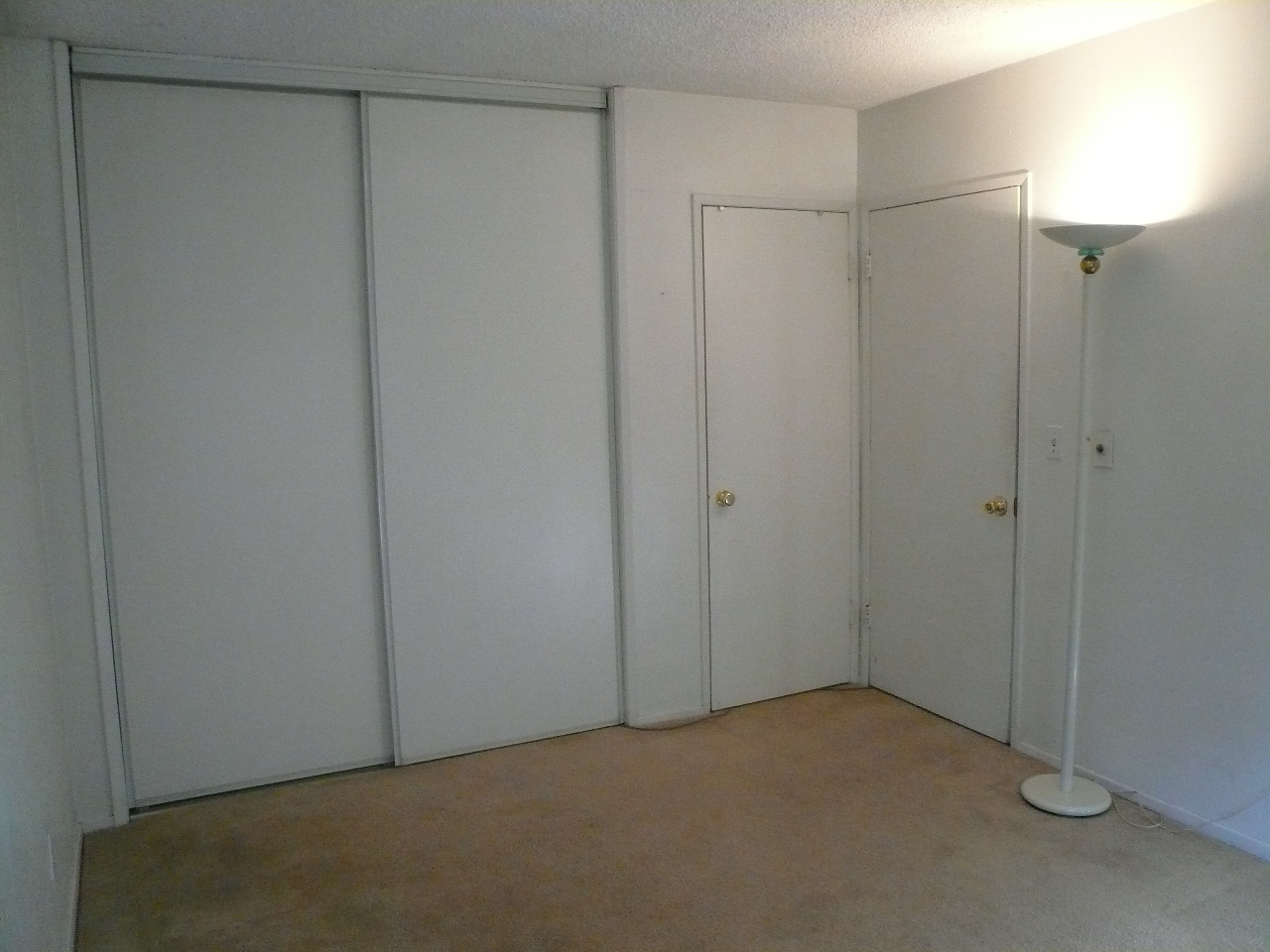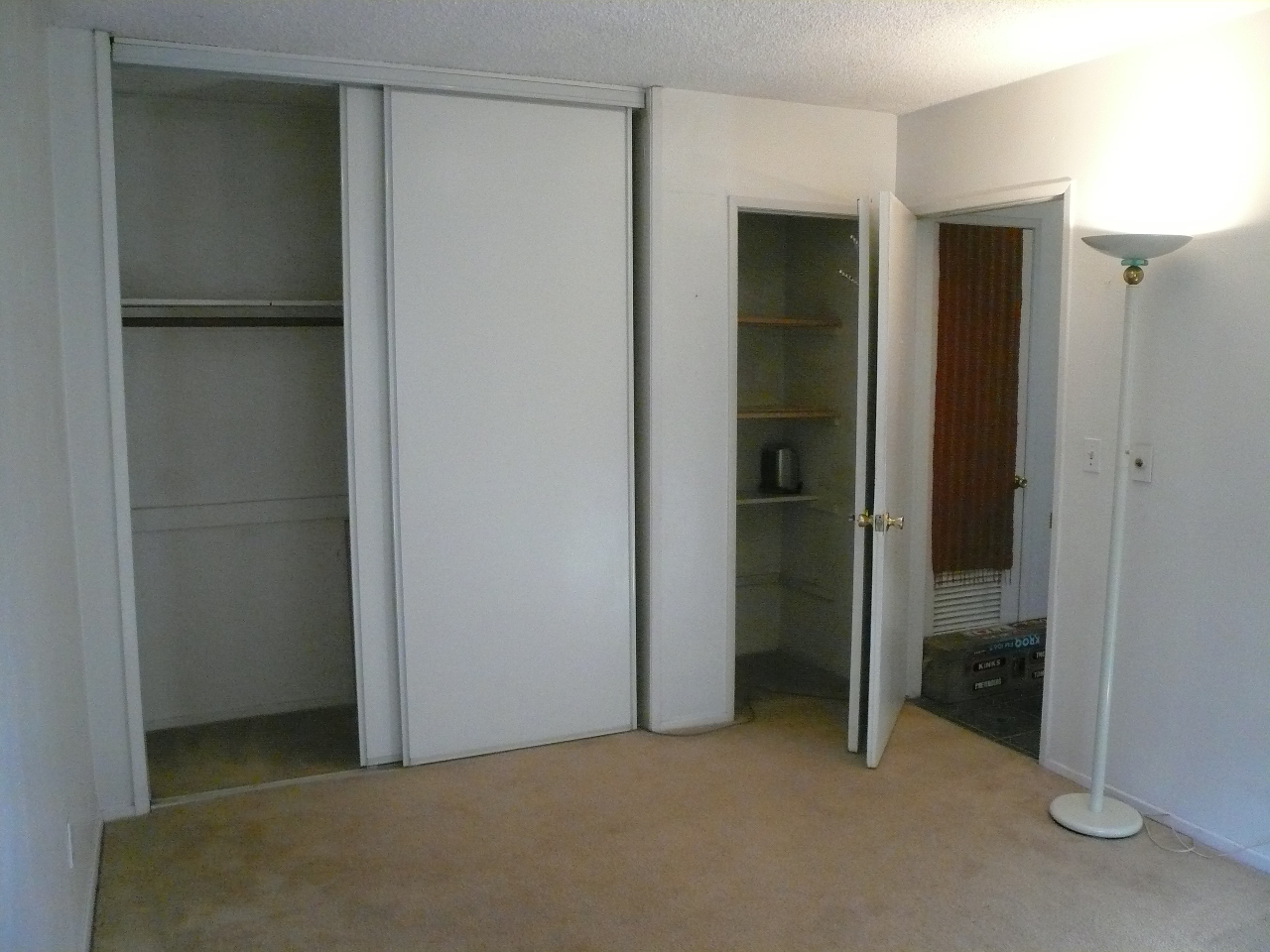 Note:  There is now a better space heater than in the above and below photos, and all the wall decorations are gone, so you will have a completely blank space to decorate as you wish.  The over-door clothes rack is still there, but not the torchiere lamp.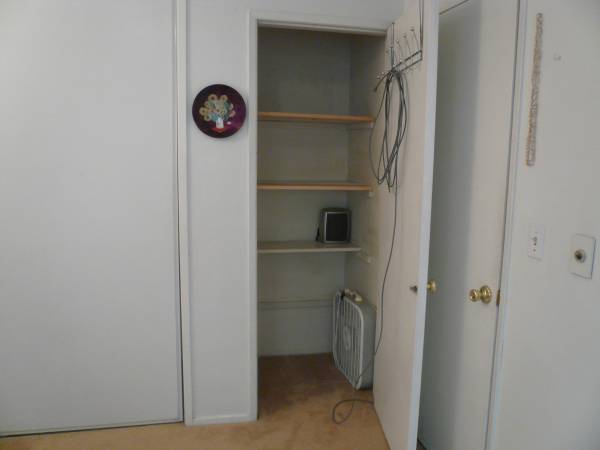 Closet storage includes the organizer cabinet and shoe shelves shown below.  Feel free to re-arrange the organizers as you like.  Also, the currently-provided space heater is shown in the photo below.  It is a parabolic design with instant-on heat and a thermostat.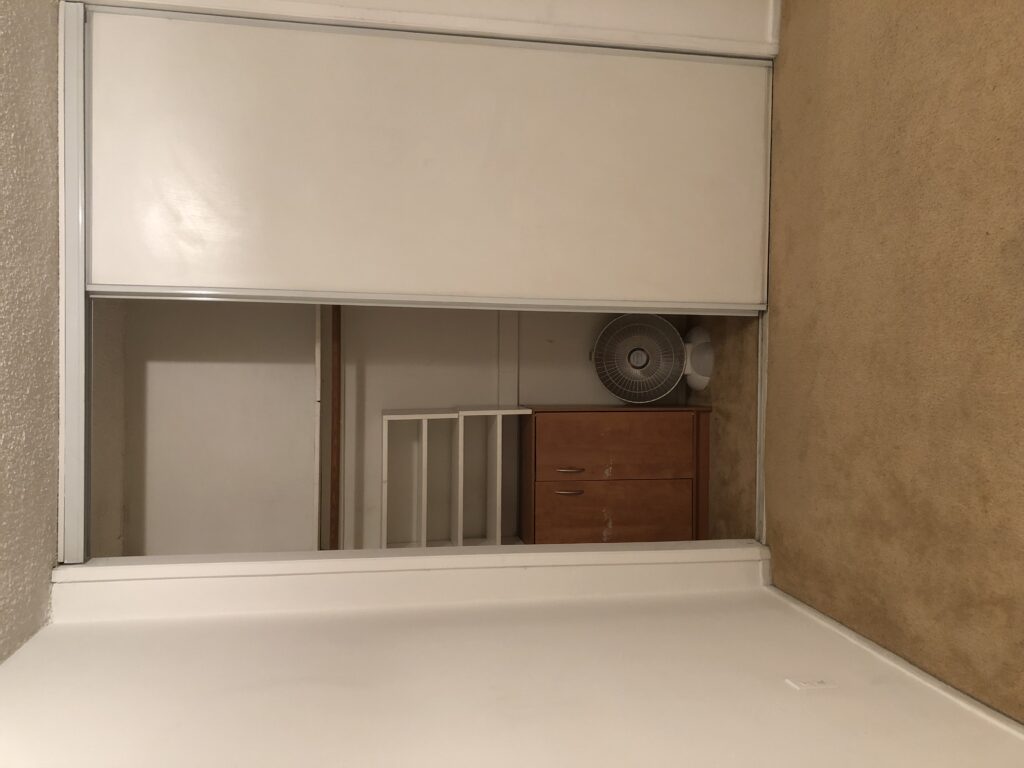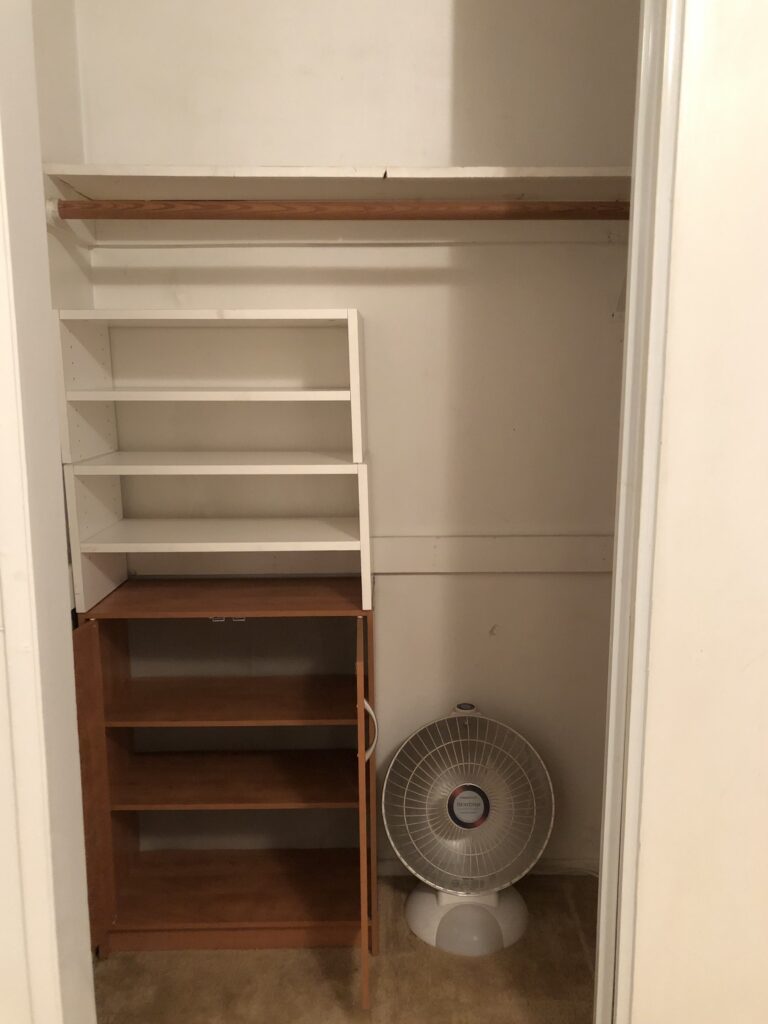 View out your bedroom window. That's a sycamore tree, with its roots in the creek that runs behind the building.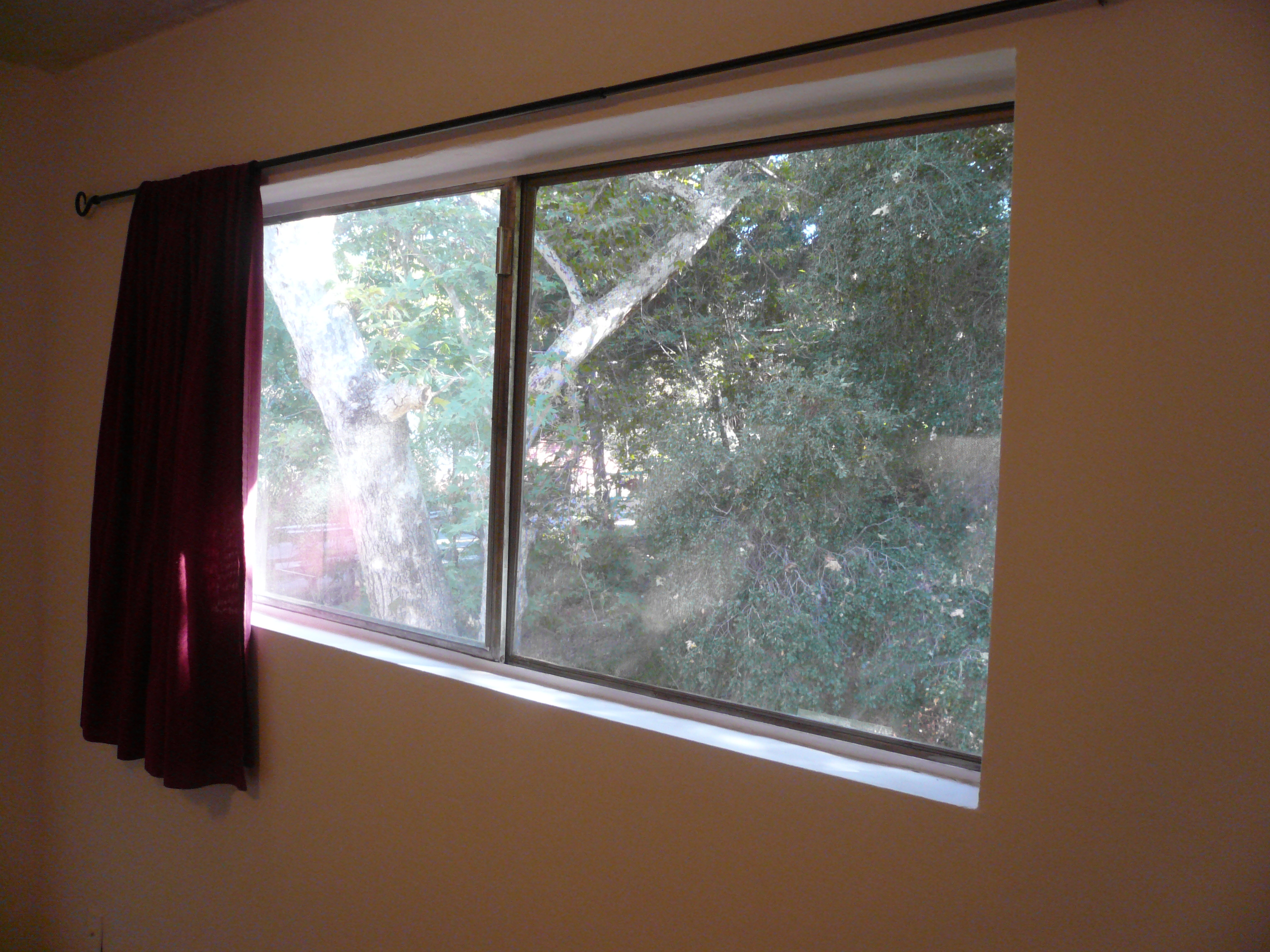 This is a shot out your bedroom window when the creek was full of splashing water after a heavy winter rainstorm.  Usually, the creek is dry.  There were rocks decorating the windowsill, reflected in lower right of the photo.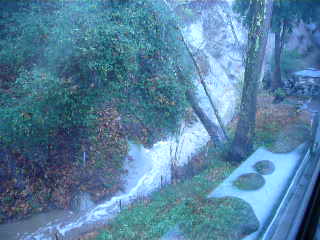 COMMON AREAS:
Share bathroom, kitchen, and living/dining-room. The kitchen has a good amount of counter space and a stove and refrigerator. There is now a full-size portable dishwasher!!! There is no microwave oven, and I want to keep it that way.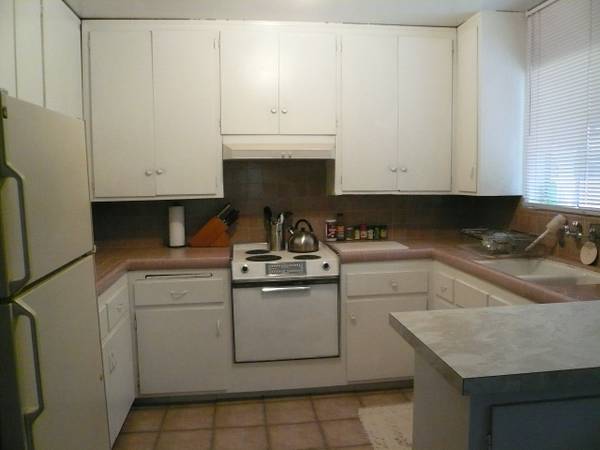 Stove is electric, and there is a small programmable oven that can make toast or cook frozen pizzas. The oven on the built-in stove just broke, so we only have the stove-top burners and the little programmable oven and a George Foreman grill to cook with.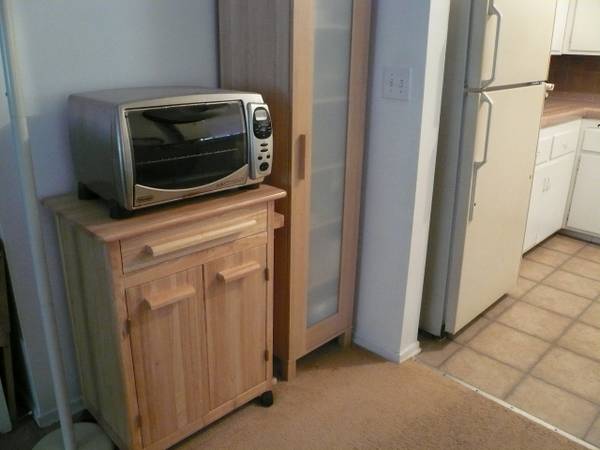 The photos below show your side of the kitchen.  You would have the two corner over-counter cabinets, the two corner drawers, the under-counter cabinet left of the oven, and all the counter space from the oven left to the electrical outlet (shared).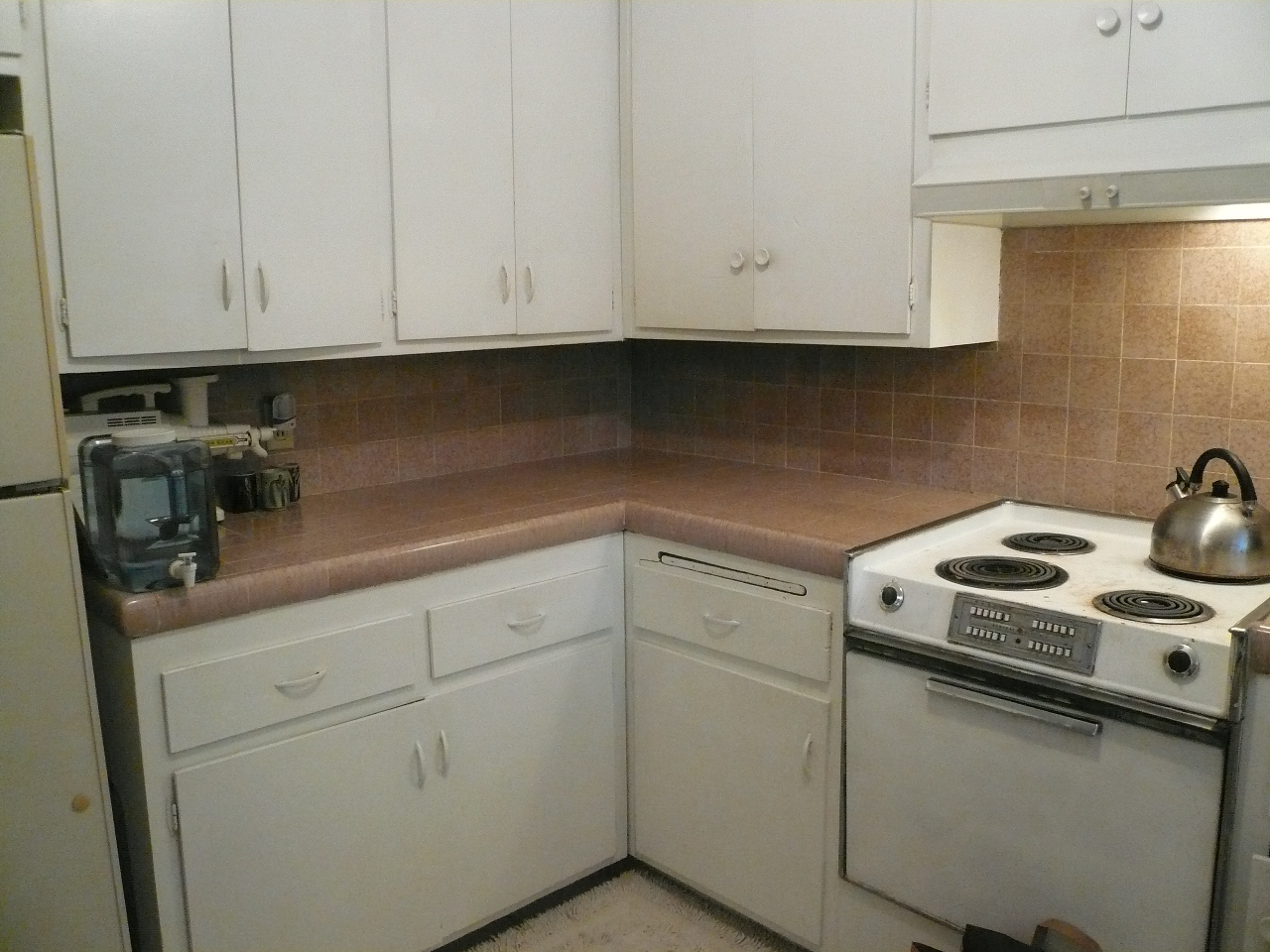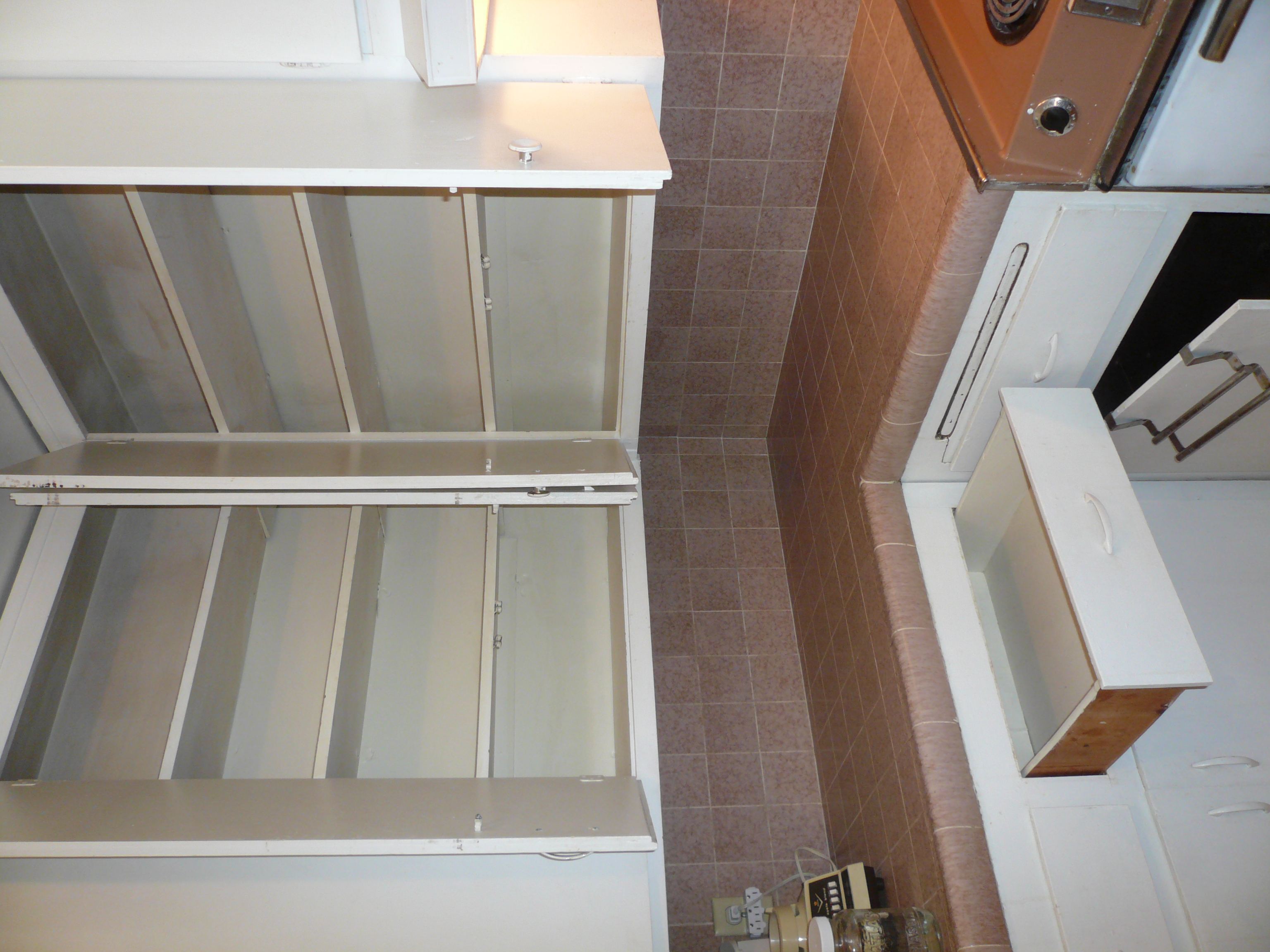 The view out the kitchen window is trees and the parking lot in front of the building. The right side of the kitchen sink and right dish drainer are for your use.  The dishwasher in the foreground provides more counter space, and rolls out of the way as needed.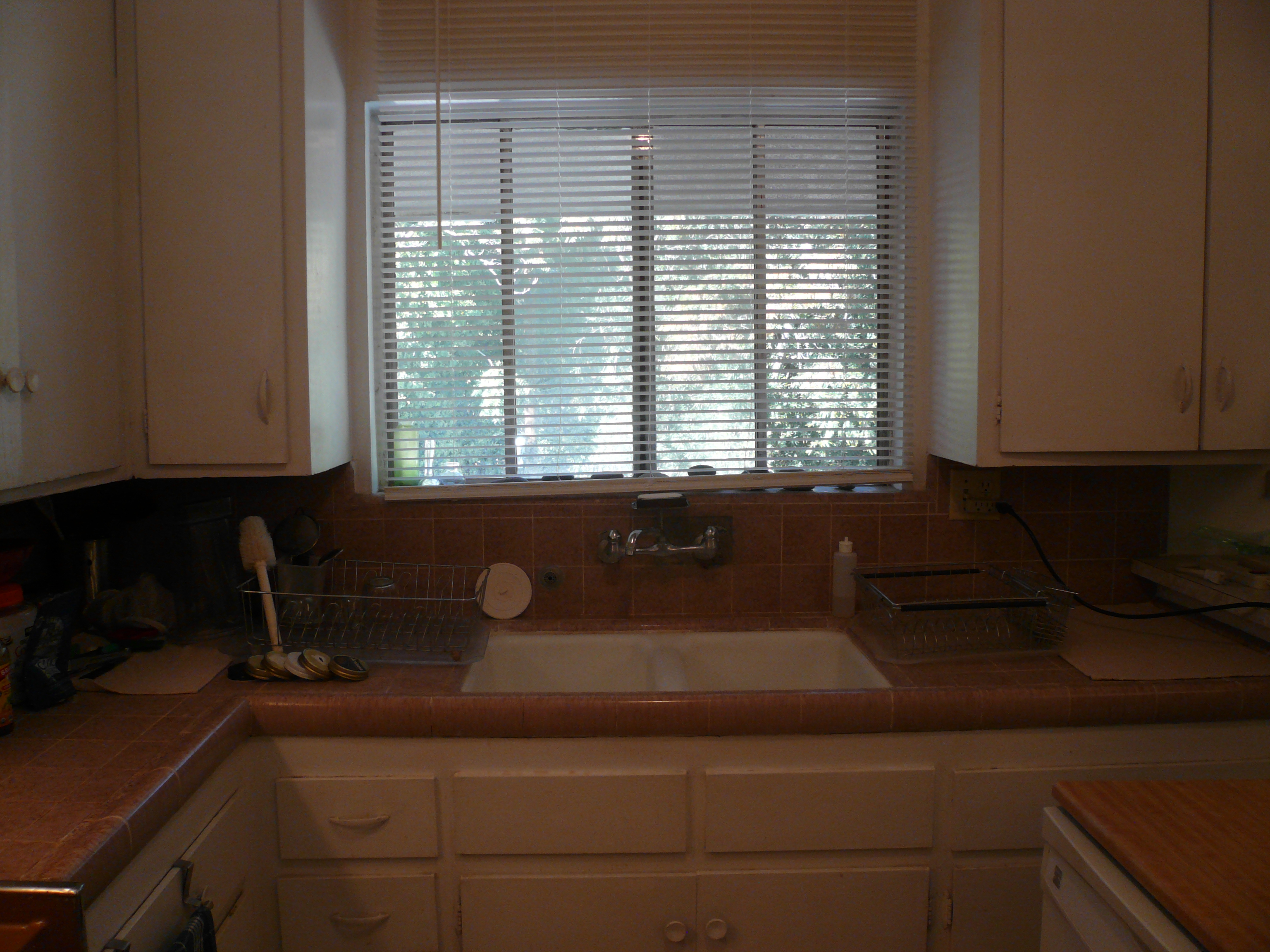 The bathroom has a shower/bathtub combo with shower water filter and a large space heater.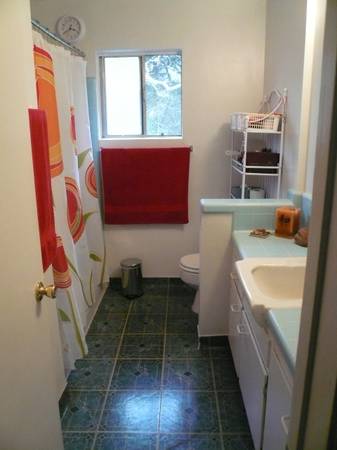 The rock art has been rearranged to make room for a bathroom fan on a timer and any plug-in appliances you have, such as a shaver or electric toothbrush.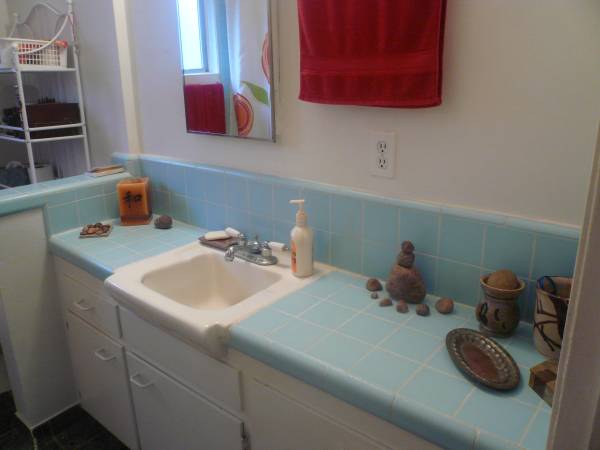 Livingroom/dining area is furnished, except could use a couple more dining chairs (there are only two).  Livingroom has an old-fashioned Sony sound system (plays CDs and cassettes) and enough space to do Yoga/Qigong/T'ai Chi.  There is no TV in the livingroom and I want to keep it that way (mental hygiene).
CONNECTIVITY:
NO WIFI allowed for health reasons – great for electro-sensitive people!  Spectrum for hard-wired high-speed internet – speedtest dot net showed 82 Mbps download on January 5, 2022.  There is a daisy-chained router in your room with 4 ethernet slots – one for your computer, one for your cell phone, and you have 2 more open ethernet slots for internet access, e.g., if a friend visits and wants to plug in their phone or laptop.  This is the canyon, so cell reception depends on your carrier and your phone.  I will help you set up a Google Voice account as a backup to ethernet phone connection.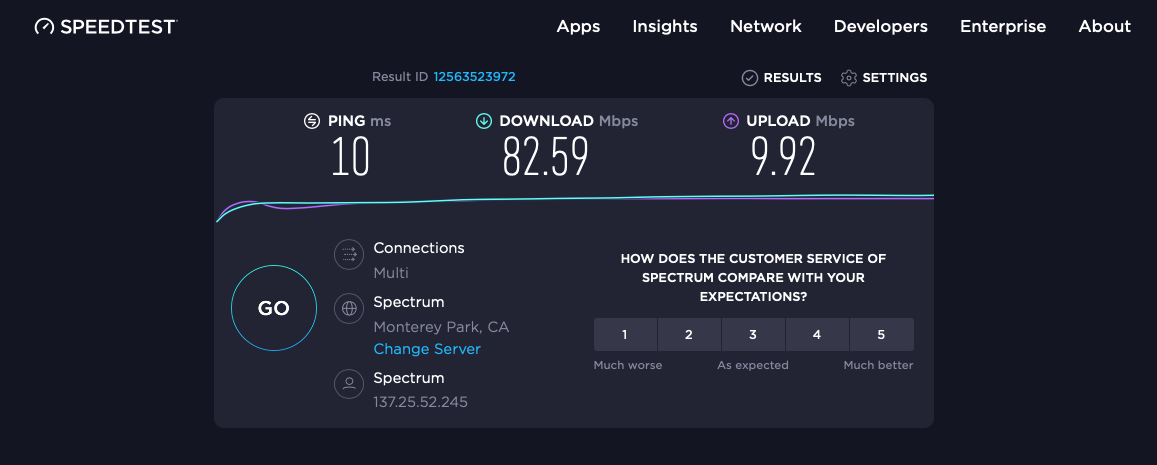 About the lack of WiFi….  Here is a video that shows how to connect iPhone or iPad or Android phones and tablets to the internet via ethernet cables.  This next video shows speedtest.net, and you can see the wired connection is much faster than wireless.
I have the adapters you would need:  ethernet to lightning or USB-C adapters.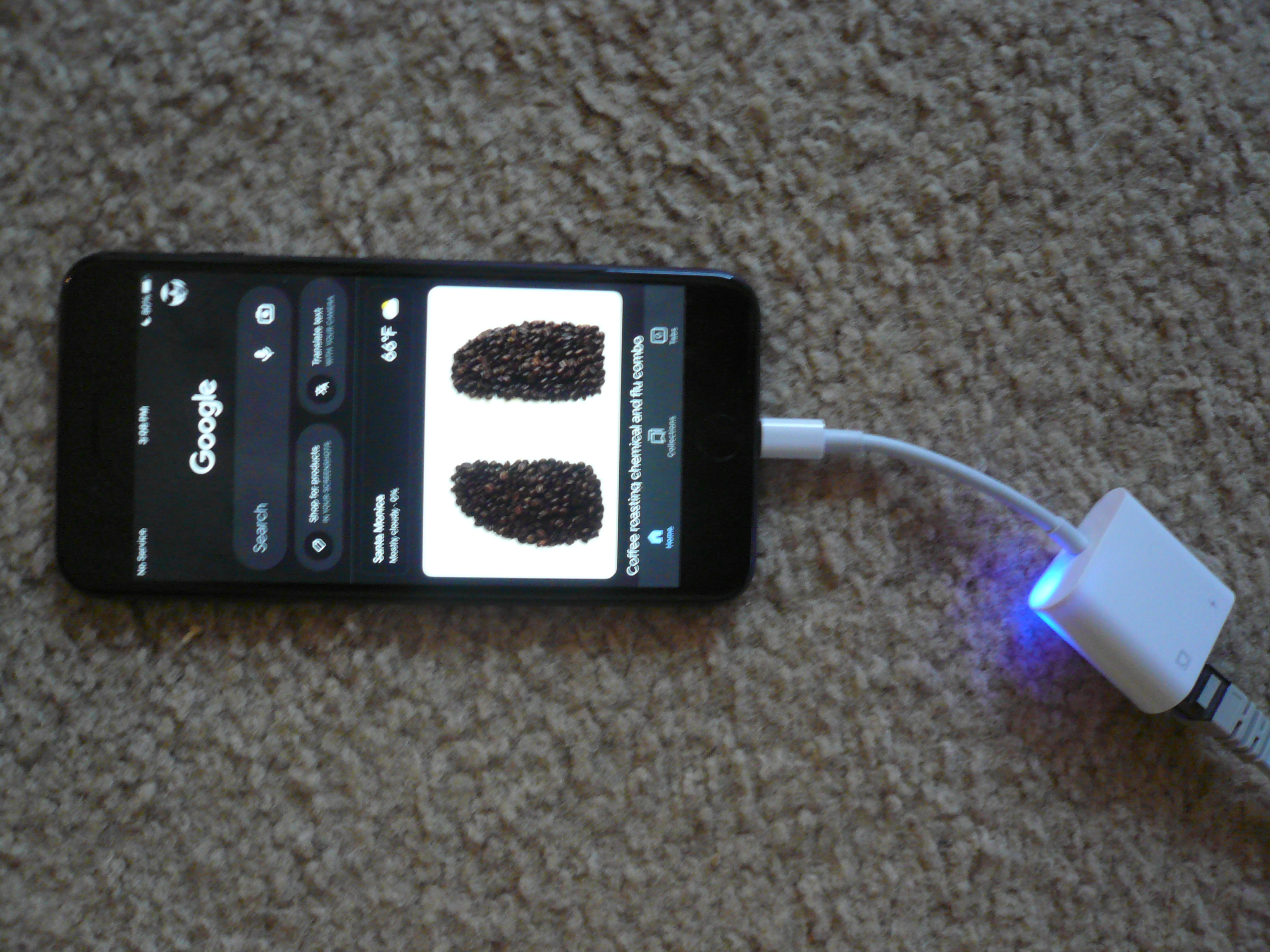 Here is an overview of the proven health hazards.
Here are links to studies showing cell tower, cell phone, and WiFi health hazards.
AIR CONDITIONING AND HEATING:
Your room has a box fan and an instant-on parabolic space heater.  Living/Dining area has a window air-conditioner, and we only need to use it on very hot days because the insulation is so good here – it's usually 10 to 15 degrees cooler inside.  Winters are cold here!  The electric bill goes up for heating in winter because we use space heaters and the oven. 
PARKING – STORAGE – LAUNDRY:
You get one parking spot in the lot (not reserved, first come first serve), and your guests have easy street parking.  There are never any street sweeping parking tickets in this neighborhood!!!  There is room for locking a bicycle behind my car in the carport, but not much room for outside storage.  This building has NO laundry room because it's on a septic system.  Nearest laundromat is 12 minutes away on Topanga Canyon Blvd just south of Ventura Blvd.
WATER – UTILITIES:
I buy fluoride-free drinking water from House of Living Water or Drinking Water Depot and haul it up the hill.  Your share of utilities will be about $40-$80 for electric (summer as low as $35, winter much higher because of heating), $40 for internet, and $4 for drinking water.  There is no gas bill, this apartment is all electric. Because it's all electric, this building is exempt from rolling blackouts!
PATIO DECK – BACK YARD – GARDENING:
There is a patio deck right outside our front door with seating and potted plants. There is plenty of room for more plants here, and I'd rather not have any plants inside because the potting soil can grow mold. The ethernet cable in the livingroom is 100 ft long and reaches out to the patio, and I have a TV tray table you can bring out to the deck for your laptop.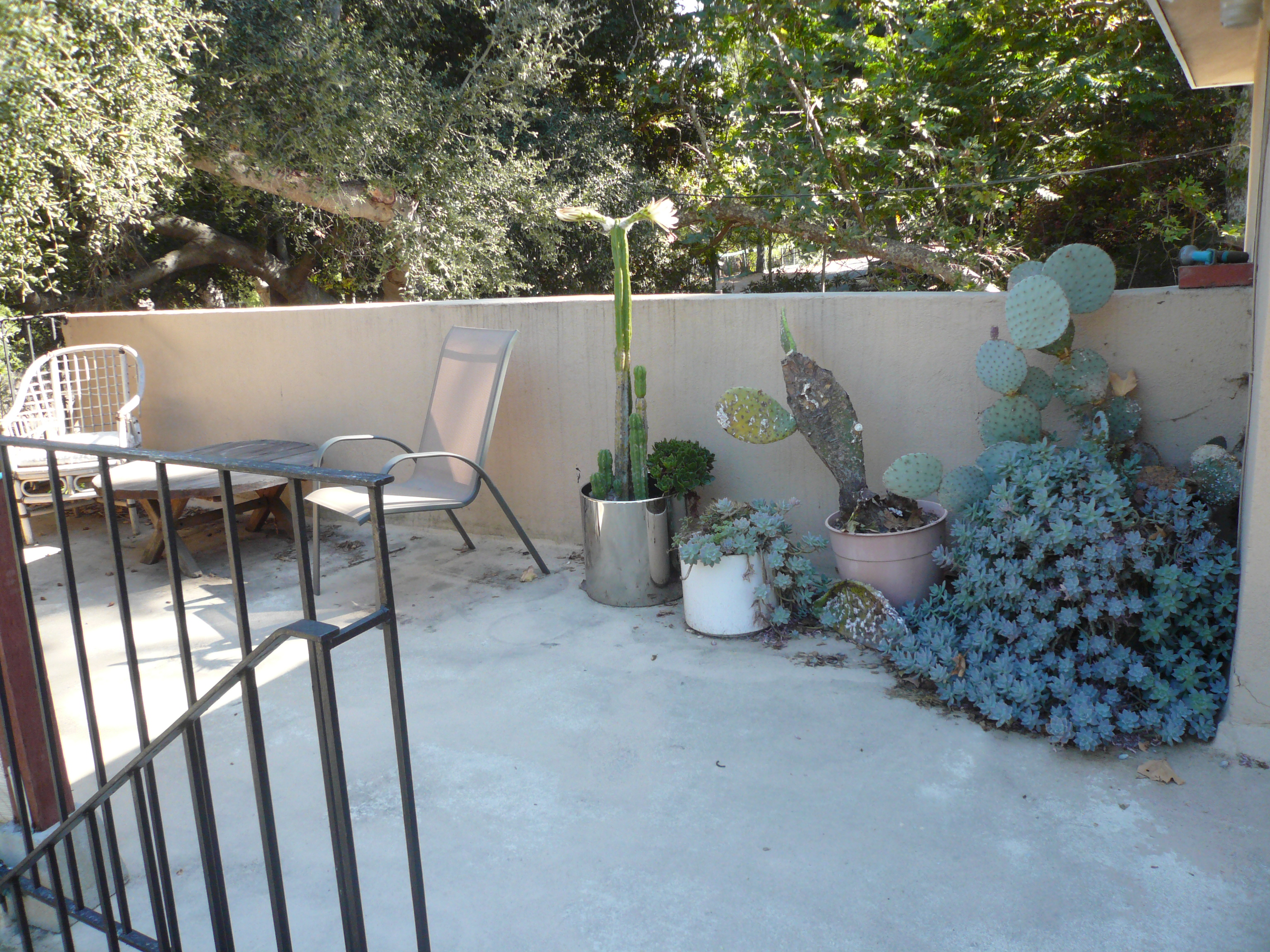 Back yard has a picnic table, new yoga deck, and new gazebo with cute seating area near the garden, the creek, the mountain.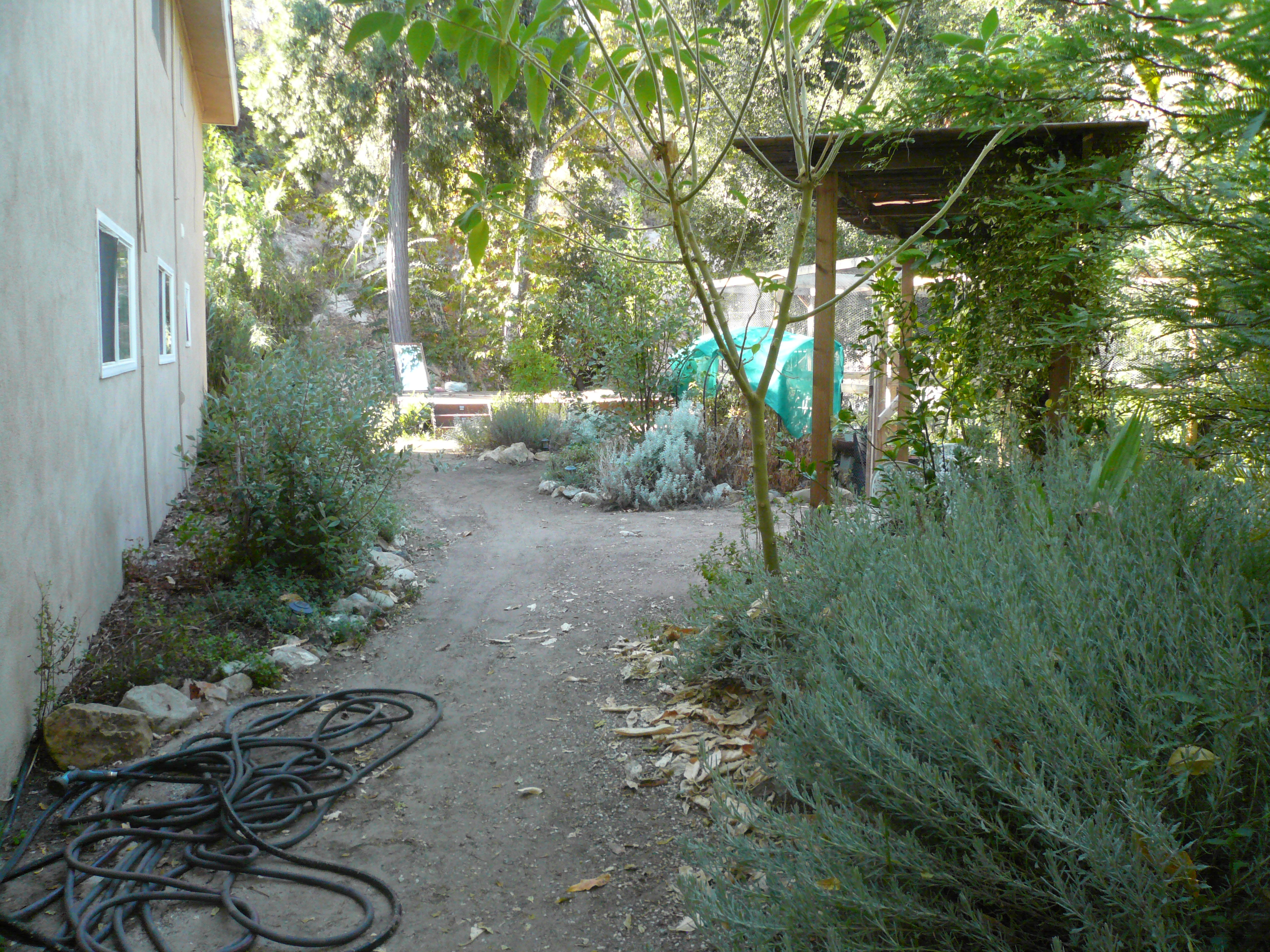 You're welcome to claim a spot to do some gardening inside a wire-mesh-enclosed garden that keeps out rabbits and birds.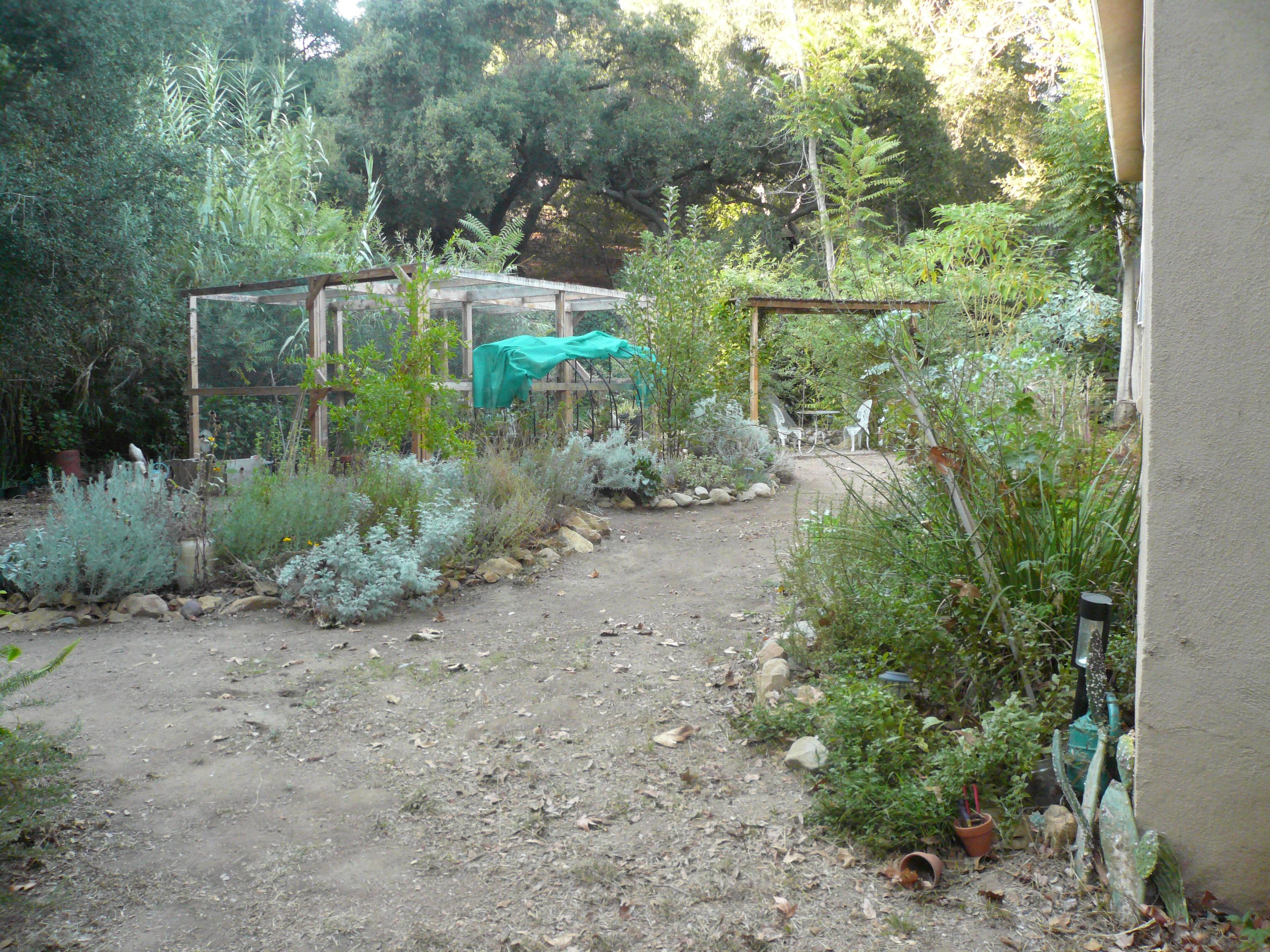 You would need to bring out a seat cushion to enjoy the cute little seating area under the gazebo. For internet in the back yard, you have to ask one of the neighbors for their WiFi password.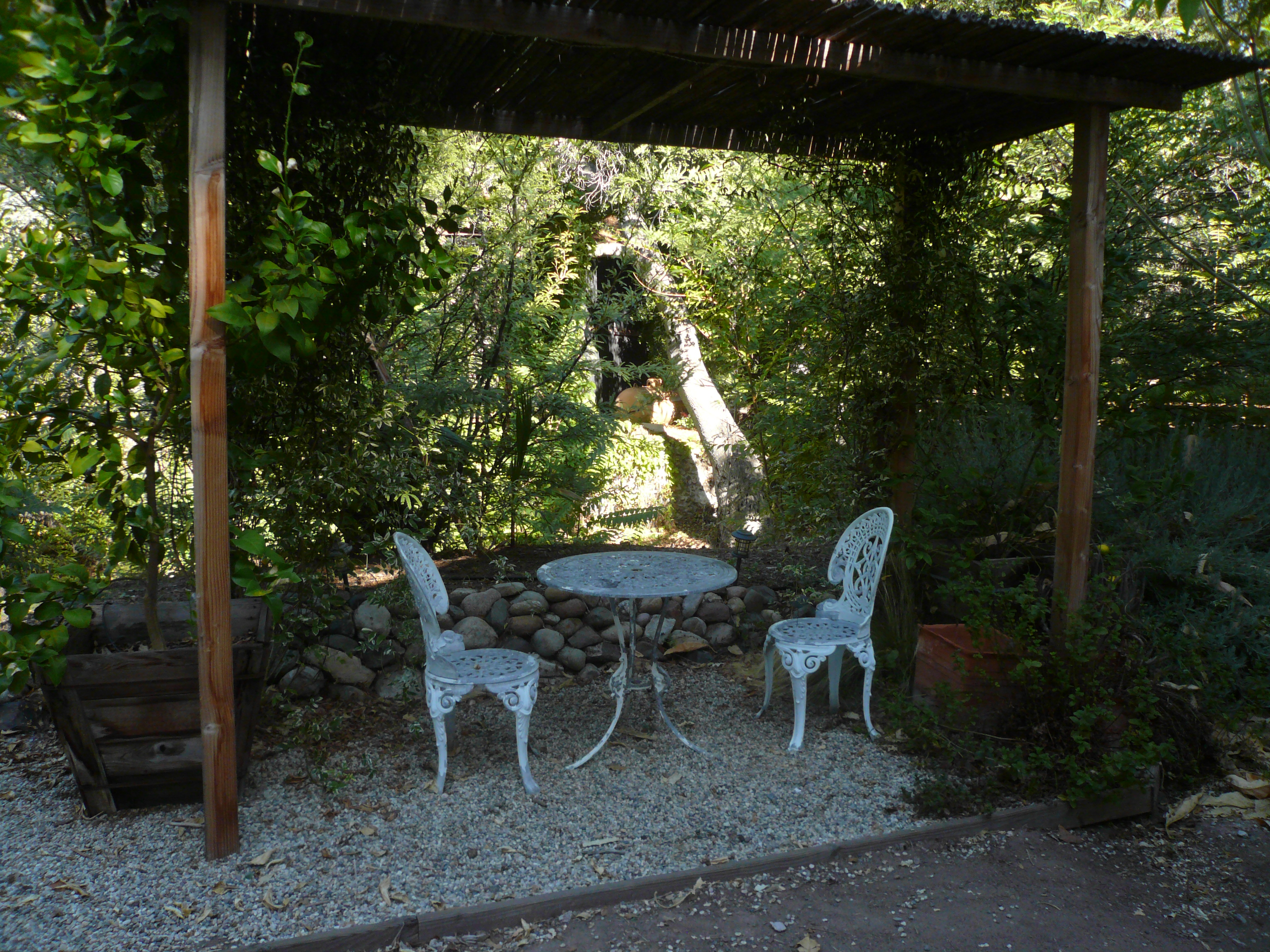 The yoga deck has enough room for 6 or 7 people to take yoga class, and yoga teachers live in apartment #1. You're welcome to teach a class here, as long as it's not too loud, and your guests don't park in the lot.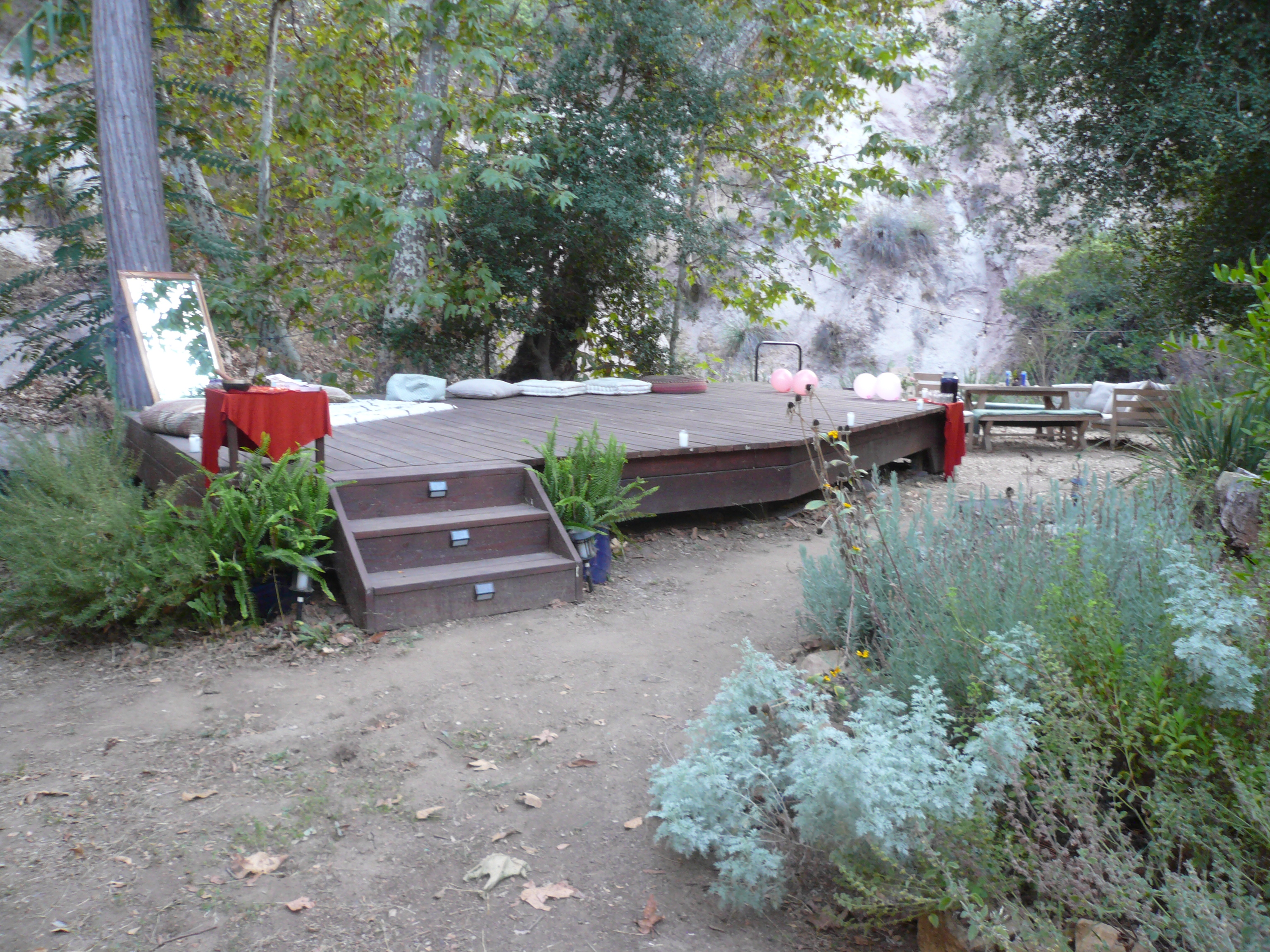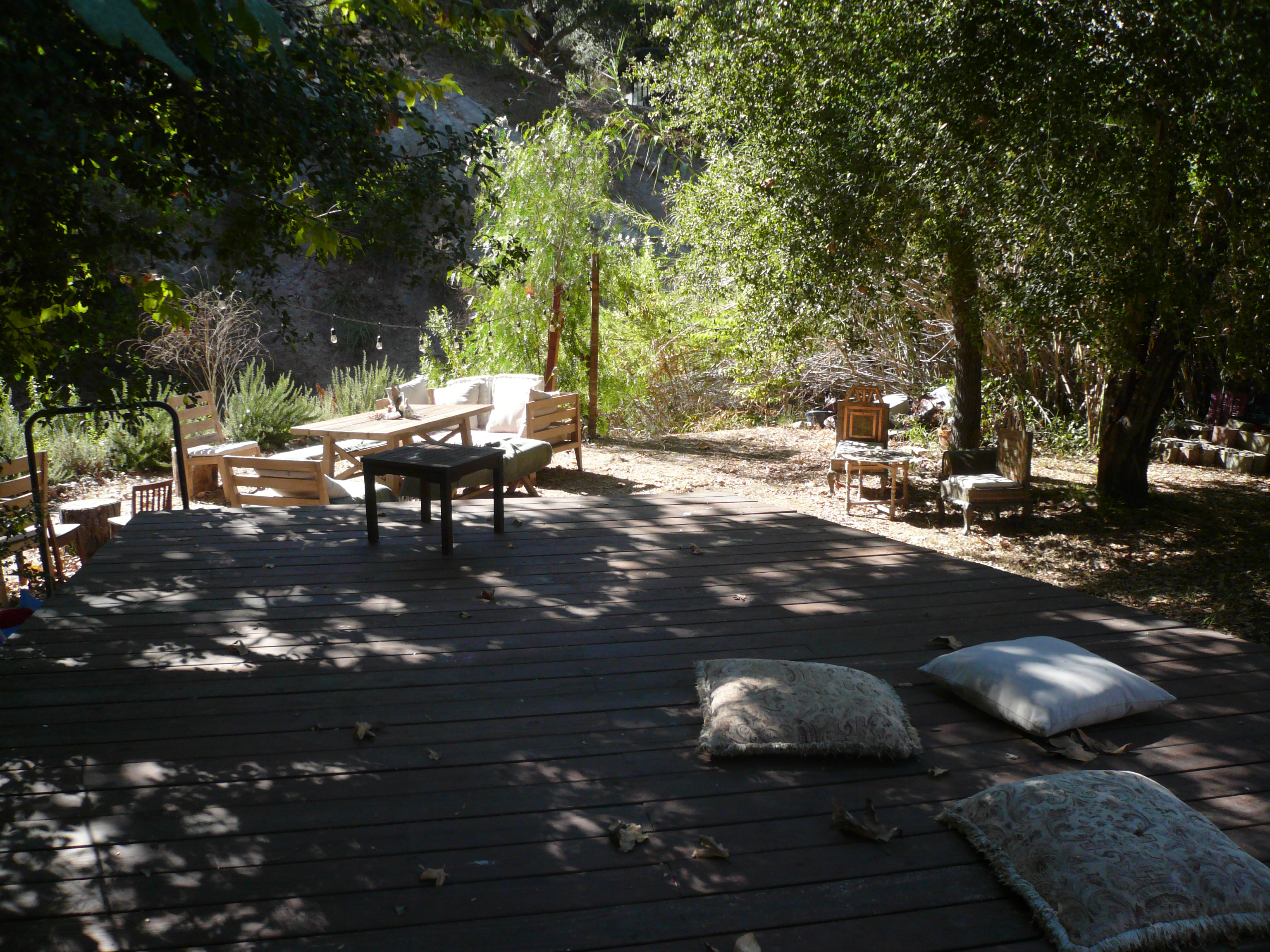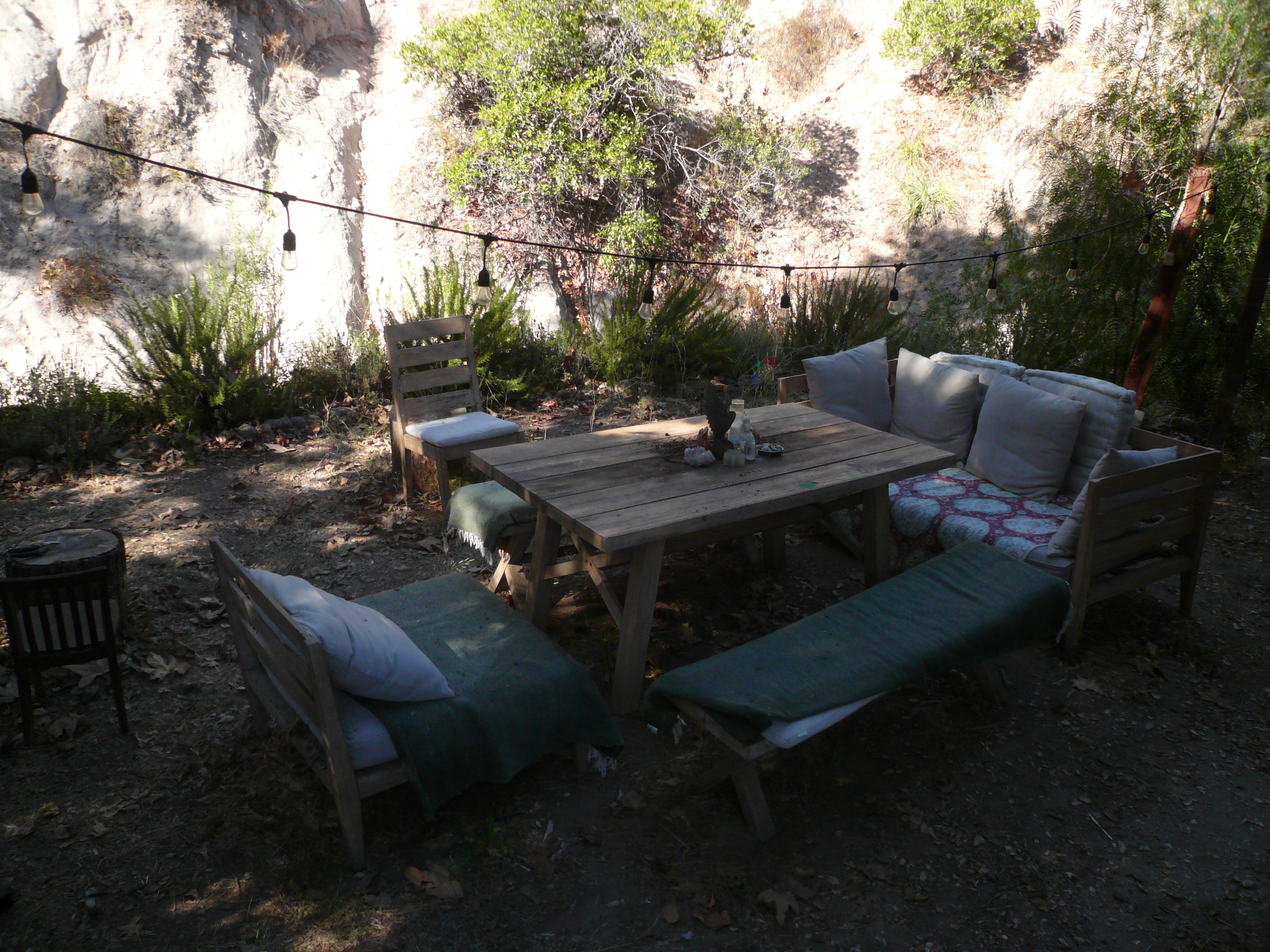 NEIGHBORHOOD:
Topanga town center is 5 minutes away and has The Inn of the Seventh Ray restaurant (4 stars!) with adjoining Spiral Staircase metaphysical bookstore, more restaurants, cute coffee shops, gift shops, crystal shops, a yoga studio and art studios, live music and open mic nights, an old-timey General Store, a newer gourmet grocery, two more little markets, Hidden Treasures thrift store, plus post office, fairly new library, and Owl Falls waterfall at Jalan Jalan Imports.  
12 minutes to Woodland Hills or Calabasas, 20 minutes to Santa Monica.  Lovely walk up to a lookout point with benches to sit on and great views of the canyon starts just steps outside the door.  Access to hiking/biking trails in Topanga State Park and Red Rock State Park is just 5 minutes away. Closest Farmer's Market is Calabasas on Saturday mornings. Topanga Community Center has 2 stages with live music festivals at least 3 times per year.  There is also an annual film festival and an annual art studio tour (artists open their workshops at their homes, map provided).
LIMITED PUBLIC TRANSIT:
You *must* have a car, truck, or motorcycle to live here because there is no public transportation except the "BEACH BUS" that goes between Santa Monica and Woodland Hills once per hour from 9am to 4pm in beach weather.  This place is at 1,000 feet elevation, and it is unsafe to ride a bike up into the canyon after sunset.
MORE PHOTOS:
These show how your room was set up when I used it for giving healing sessions.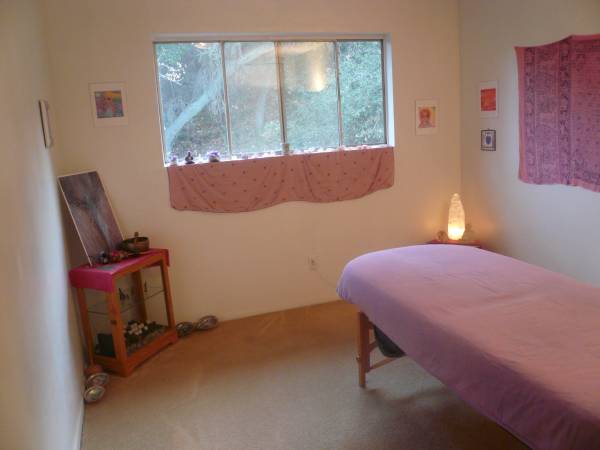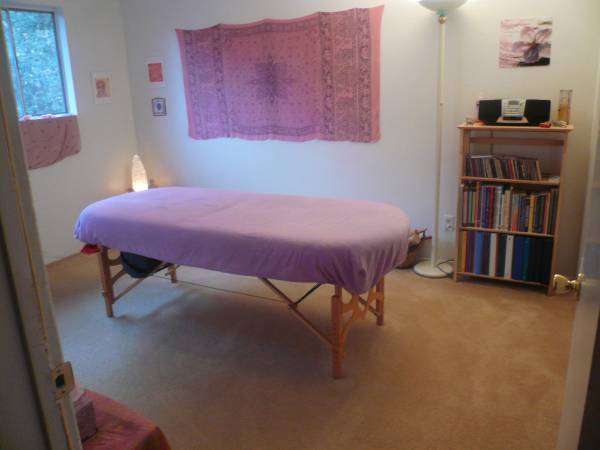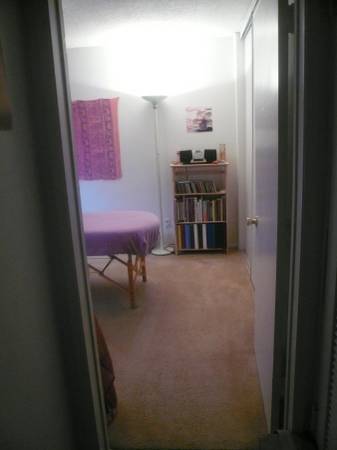 Your room from the hallway.  Bathroom is to the left, living/dining room is to the right, and my room door was behind me as I took this photo.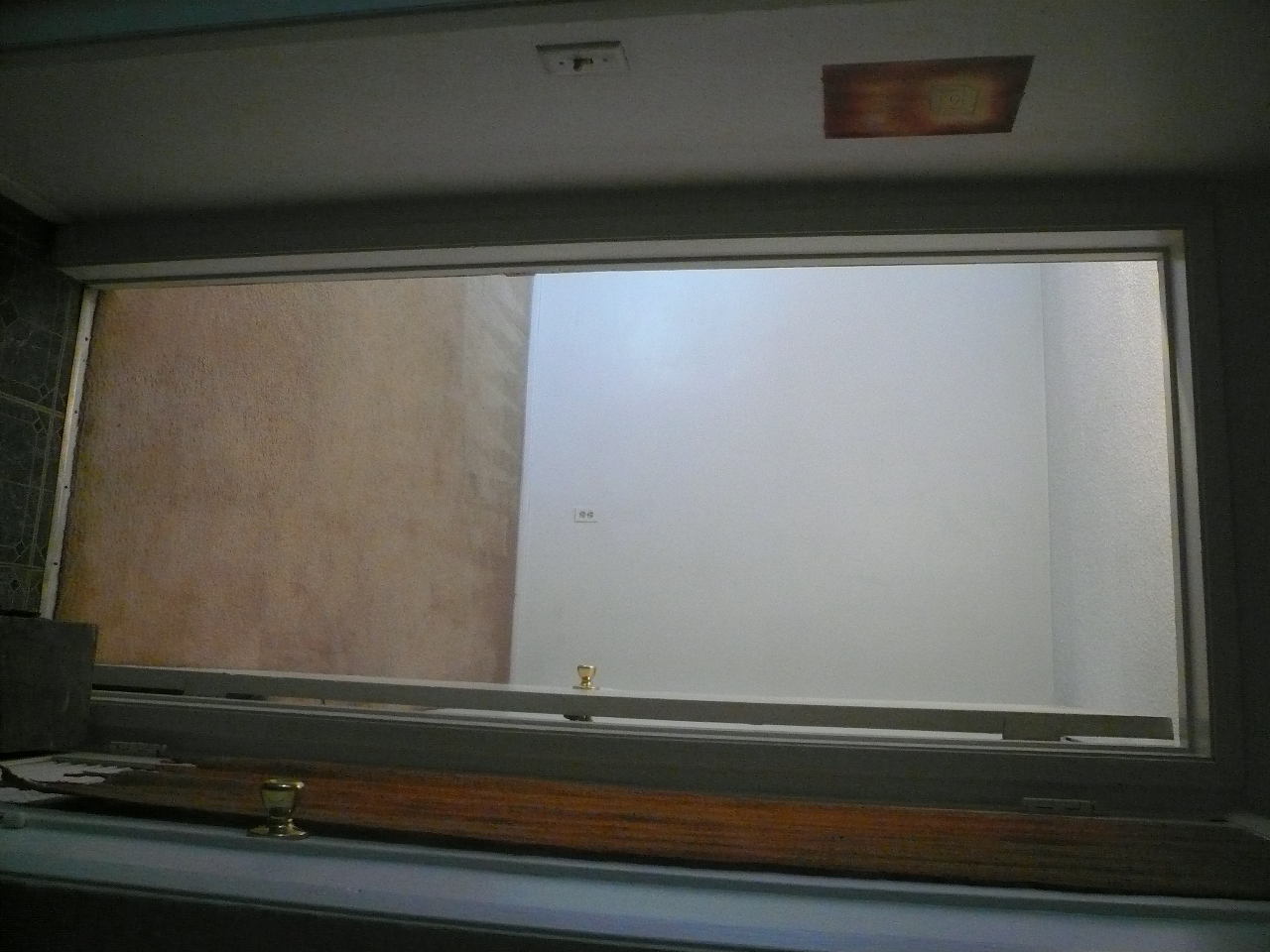 These show how a full-size bed fits in.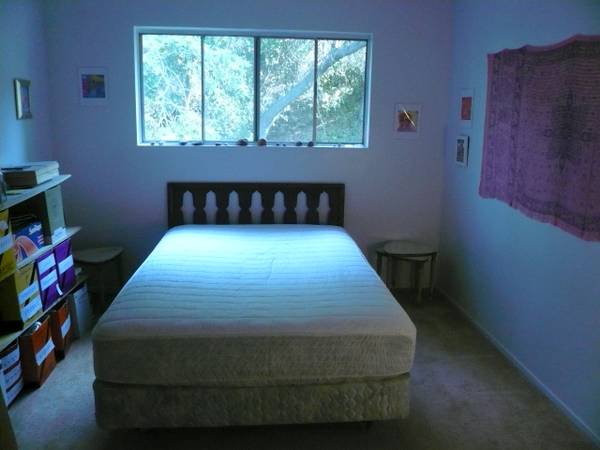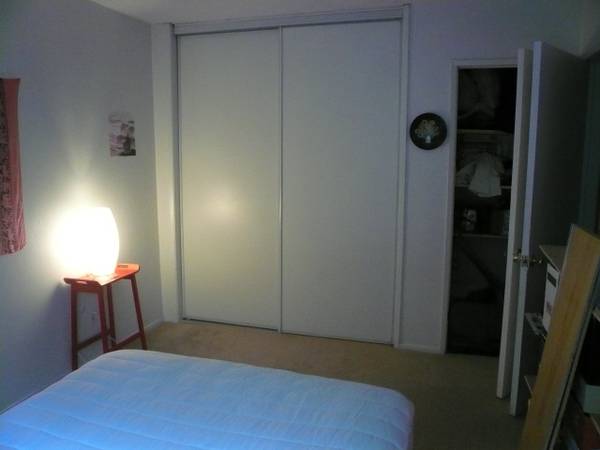 Here are some shots taken on the walk up the hill near the apartment.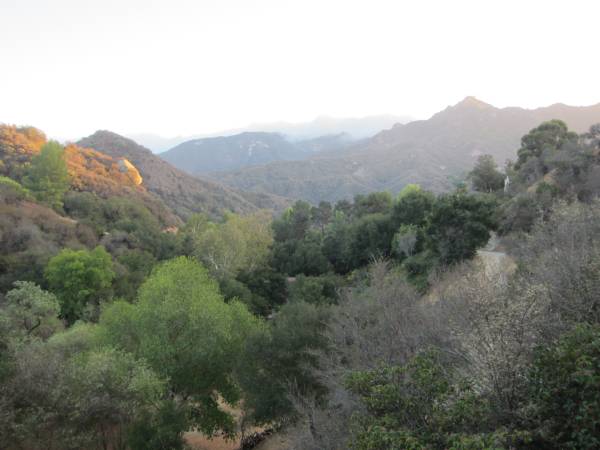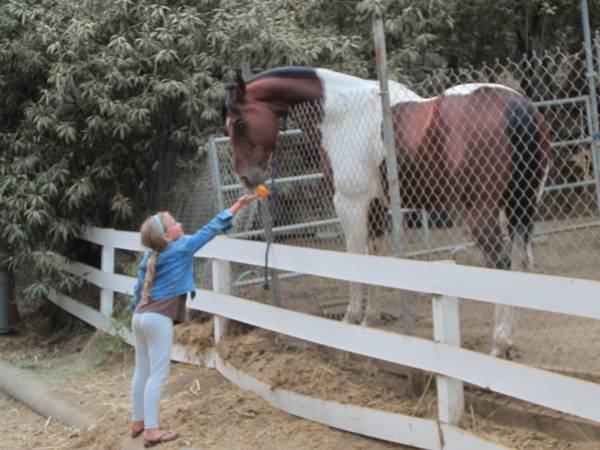 Here is a pic of the Atlantean Crystal Grid and Soul Star setup when we hosted Brian Porter to lead a Soul Time meditation event in our livingroom.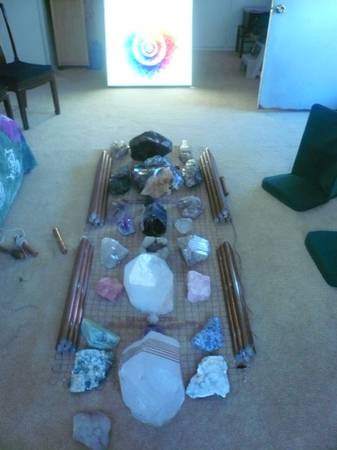 ME:
I do hands-on and remote healing work, teach meditation and Qigong, brainiac researcher and writer working to save the world, mostly pescetarian/mostly organic.  I rent office space in Santa Monica, travel to client's homes, do sessions from home via zoom (in my room), and occasionally see clients here in the livingroom (since covid, only one regular client a couple times per month).  I'm usually at home in my room working on my computer when I'm not out doing sessions or running errands or hiking / having fun.
COVID COMPATIBILITY:
I have had a very mild case of coronavirus, lasting only three days (thanks to safe and effective alternative treatments), so I have natural immunity, which is better than vaccine immunity.  I prefer a roommate who also has natural immunity.  I have rheumatoid arthritis, which is an auto-immune condition (not contagious), and because auto-immune conditions are one of the many terrible side-effects of the covid shots (they are not vaccines, they are experimental gene therapy), I will not be getting it, and prefer a roommate who hasn't had it and does not intend to.  I cannot tolerate chlorine bleach or Lysol-type commercial disinfectants, and prefer to disinfect with hydrogen peroxide, essential oils, Simple Green, Oxy-Clean, MMS, and other non-toxic household cleaners.  I still hug people and shake hands because I trust my immune system.  I only wear a mask when required for entry into a store or other place of business.  
NEED COMPATIBLE WORK SCHEDULE:
Because I sometimes give healing sessions in the livingroom (right now, less than once per week, one regular client), I need a roommate who works outside the home on some sort of regular schedule so I don't have to check with you to know when I can book clients.  I am usually out of the home at least one or two nights a week, sometimes more often, so those are times you will have the place to yourself, and I can coordinate some of my "out" nights to line up with your "off work" nights so you can enjoy having the place to yourself.  Obviously, because of lockdowns, you may be working from home for now – prefer someone who will be returning to work outside the home when lockdowns are lifted.
HOUSEWORK:
I hope you will agree to helping clean shared spaces about twice per month.  We can clean the shared spaces together and get it overwith.  I'm not up to doing it weekly, and things get a bit too dirty if left for over two weeks.  I need you to clean up after yourself if you make any major messes in common areas, especially the kitchen and bathroom, so they are always clean enough to receive clients or guests.  I am open to splitting expense for maid service, as long as we have them use our non-toxic household cleaning products.
Because of my chemical sensitivity, I take responsibility for buying household cleaning products as necessary.  Here is the Environmental Working Group database I use to check toxicity of household cleaners:
https://www.ewg.org/guides/cleaners/. 
GUESTS:
I am fine with overnight guests, as long as they're staying just 1 to 3 nights at a time, and not moving in, and you clean up after them.  You are welcome to have guests stay either in your room or on the futon in the livingroom.  Please alert them to my chemical sensitivities and ask them not to wear cologne or perfume.  If they're going to be showering here, please offer them your non-toxic soap/shampoo/conditioner to prevent me suffering a tox reaction from their bodycare products.  I sometimes have guests stay here too, usually only one night at a time, in the livingroom. 
WEIRD SMELLS:
Chemically sensitive person welcomed.  I cannot handle toxic household cleaners, synthetic fragrances, synthetic air fresheners, or any kind of incense, even organic.  I'm fine with real Essential Oils and burning small amounts of White Sage and Palo Santo.  I need a roommate who does not smoke tobacco ~ I will smell it on your clothes and your breath and get a tox reaction headache.  Smoking yummie green leaf in your bedroom or out on the deck is fine, as long as you keep the smoke out of shared spaces.  If you like to use heavily-scented bodycare products, we are not going to be a good fit unless they're all scented with real Essential Oils.  If you are not chemically sensitive, you will be shocked at how many soaps and bodycare products and household cleaning products have synthetic / carcinogenic fragrances that cause me a tox reaction and cannot be used here.  
Check out your bodycare products in the Environmental Working Group Skin Deep database:
https://www.ewg.org/skindeep/
Here is a list of products that are EWG verified, and I also have a list of over 50 brands of organic and non-toxic body-care products.
https://www.ewg.org/ewgverified/
Because of my sensitivities, and to prevent mold, I keep the windows open to air out the bathroom and kitchen/livingroom whenever they are not currently being heated, and sleep with all the windows open for fresh air, even in winter when it's ridiculously cold outside.  Of course, you can do whatever you want with the climate in your room.  Heater and fan provided.
WEIRD SMELLS IN THE KITCHEN:
Prefer Vegan or Vegetarian or Pescetarian (Fish-atarian) or Raw or other healthy diet, but will room with a meat-eater if we are super-compatible.  If you're going to fry meat on the stovetop, I insist you use a spatter screen to minimize greasy clean-up.  I have a George Foreman grill you can use that makes a lot less mess, or there are other less-messy ways to cook meat, such as a pressure cooker, crockpot, or stewpot. 
NOTE:
I am no longer vegetarian.  I have been eating 99% organic and mostly raw/vegan off and on since 2002, and for health reasons, I have added seafood and occasional meat or chicken back into my diet.  I also eat raw eggs and grow sprouts in my dish drainer.  You will have your own dish drainer.  
FENG SHUI:
The front door faces due North, which is excellent.  My room has the Prosperity corner.  Your room has the Romance corner, which is why the curtain is burgundy red.  It works!  Several of my former roommates have started relationships while living here.  Toilet lid must be kept down to support my small business (and yours?) because it's in the "Fame and Recognition" zone and it's bad for business for the South/Fire energy to run down the toilet.  Because of the dirt parking lot, this is a shoes-off home to minimize need for vacuuming.  
Rent is Month-to-Month, with intention of staying at least a few months.
References please!
Free Astrology compatibility check and credit check.
I'm a Leo and get along better with fire, air, and earth signs.
For the astrology compatibility check, I need your date, time, and place of birth so I can run your natal chart and our composite and synastry compatibility charts on www.astro.com.  I can email you a free copy of your natal astrology chart if you don't have one.
Here is how we do your free credit check:
You are entitled to one free copy of your credit report per year from each of the three major credit reporting agencies.  Order a free credit report here and bring it to show me:
https://www.annualcreditreport.com/index.action
Or if you know you have no credit (not bad credit, just no credit), bring proof of income (3 recent pay stubs or bank statements) so I can see that you will be able to pay your rent.
CONTACT INFO:
Text or call Andrea at 310-597-1199
NEAR:
Red Rock State Park Trailhead, Bonnell Park, Topanga State Park Trailhead, Topanga Lookout Trailhead, Topanga State Beach, Las Flores Canyon, Tuna Canyon Trailhead, Saddle Peak Trailhead, Will Rogers State Park Trailhead, Temescal Gateway Park Trailhead, Pacific Palisades, Santa Monica, Ocean Park, Brentwood, Bel Air, West Los Angeles, Westwood, Sawtelle, Palms, Mar Vista, Venice, Marina Del Rey, Culver City, Malibu, Pepperdine University, Monte Nido, Calabasas Peak Trailhead, Hidden Hills, Agoura Hills, Saratoga Hills, Cornell, Paramount Ranch Trailhead, Westlake Village, Oak Park, Woodland Hills, Warner Center, West Hills, Canoga Park, Winnetka, Tarzana, Encino, Sherman Oaks, Reseda, Lake Balboa, Sepulveda Basin Recreation Area, Upper Las Virgenes Canyon Open Space Preserve, Chatsworth Nature Preserve, Van Nuys, Pierce College.